i finally made it to the old mill ruin in
hagenberg
. it's only a few minutes walk from the castle to get there. i took my tripod and wanted to see this location i had seen on pictures so many times myself at last and, of course, take some pictures there. unfortunately the area was pretty overgrown with stinging nettles, so i could not reach my favourite point to take pictures from. instead i was more or less mowing with my tripod to get a little area free of the plants where i can place my tripod. the ruin itself was pretty nice, but way smaller than i thought it would be. nonetheless it was worth the walk there. on my way back i took some pictures of the church tower and spire (with some lens experimenting as you can see on some pictures).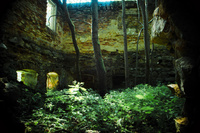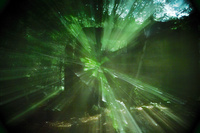 another trip with the aim of spreading cultural asset amongst american people. this time not only erin (and jake), but also jake's parents (and his girlfriend). so what would be better than some medieval ruins? nothing. thus we decided to go to
schaunburg
. i think all of the foreign guests were pretty impressed. be it by the castle itself, the nice overview on the highest platform, or something else. after the trip to the ruins we drove to eferding to a local mostbauern. the meal was excellent (though too many wasps) and way too much for the six of us. after a little chill-out (with a cute cat) at jake and andrea's house, we drove back to linz.