yesterday in the morning i got to my car as everyday. but i noticed that my licence number at the front of my car was missing. at first i thought maybe i lost it somewhere. so i went to the rear side of the car. the second plate was missing too. damn. so i went to the next police station to make a report. the officer there told me that most probably the plates were stolen to be put onto a stolen car and then a crime (whatever sort of) will be committed. additionally the licence number itself will be unavailable for the next five years. damn once more. i owned this number for over eight years now, and it was a heirloom from my grandfather (along with the car, a honda accord). farewell to my beloved "L @ 4727J"... oh, if you ever encounter a car with that number, feel free to report to the police immediately or punch that bastard behind the wheel until s/he is losing consciousness. then be so kind and call me please - tia. after being to the police station and having great fun with the officer there (i was really pleasantly surprised!) i called my insurance agent. he said i need my factory specifications, my registration and the last positive inspection report. ok, finding the first and second item was not too hard, i had them in a folder at home. but the last item was hard to dig up, since i lost the original sheet, as i never care about the piece of paper once i get the annual inspection (MOT test) approved. so i had to call the automobile facilities to get a copy. the problem was, i didn't remember what facility exactly i visited for the last inspection. fortunately there were only three possibilities. so i called each of them. of course it was the facility that was most far away - about 25km. yuhu! thanks to zombiequeen i could use her car to get there and back again. today i met my insurance agent, gave him all the papers, and about three hours later i got my new licence number. let's see if someone will steal this one too. all in all this crap took me about eight hours on the job and 20EUR. surprisingly cheap, actually, i thought it would cost much more. well, at least on this point i was lucky...
yeah, there's mother's day, valentine's day, father's day, new year's eve, women's day, sysadmin's day, beer & blowjob day, etc. so i decided to dedicate one day of the year to ircbots - this day, today! the spirits that keep us informed and scheduled all year long. they are good, never complaining about invalid input by stupid users, always patient, always providing correct information, giving their best to serve us. every single day of the year (except when there's a maintenance or power break- down, or a stupid bot-owner killed the wrong process). honestly, what would the irc-world be without bots? boring, unorganized, chaotic. so let's worship the bots, today - for it's IRCBOT-DAY! credits go out to those special bots: * Bender256 (on IRC-net, owner: cypher23) * Ro-Bot (on IRC-net, owner: Ro) * S3B0t4Ge (on IRC-net, owner: nostromo) * nickserv (on almost all irc-nets, except IRC-net) * chanserv (on almost all irc-nets, except IRC-net) * special Kudos to Carambol (ex-bot on IRC-net, owner: GangMan)
since this will be a longer bLog-entry, i will add some nice handpicked pictures for your viewing pleasure. a x-mess present from zombiequeen back in december 2005: a trip to paris, france. so she booked us a hotel room from the 05th to the 09th of march 2006. and so, after a nice weekend in gumpoldskirchen, we left for the airport in schwechat, vienna.
day_01
: we left vienna airport at 18:20 and arrived at the "charles de gaulle" airport in paris at 20:15. the first thing we saw when leaving the plane was a hilton hotel - funny somehow. we took the RER ("reseau express regional" - a train connecting suburbs with paris) to the capital. finding the hotel was pretty easy since we had a good map of metro stations and streets. after we put our luggage into our hotel room we took a walk through the area close to the hotel. it was very nice.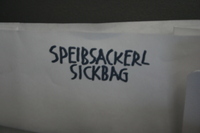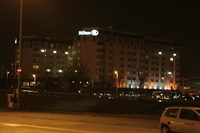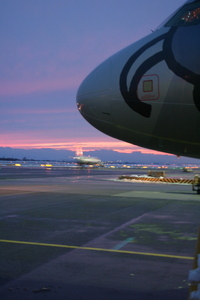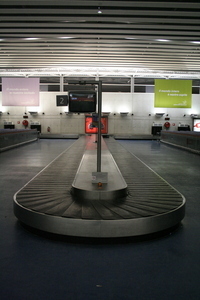 day_02
: eiffel tower. since only one pillar was opened we had to queue for nearly about 20 minutes to get a ticket and a lift to the second floor. i was told it usually takes much longer but it was not top season so not too many tourists were around. one could also walk upstairs to the second platform - but the prices for a comfortable ascent was not much higher than the entrance for the sporty way. but we decided to go up as high as possible - that was the third platform, which cost us 11EUR per person - i guess the price is pretty ok for what we got: an impressive panoramic view of paris.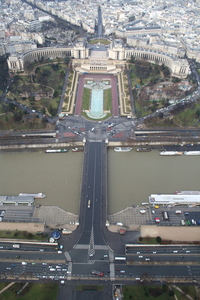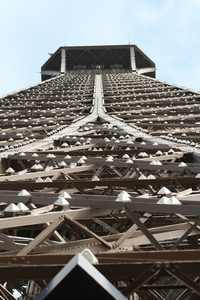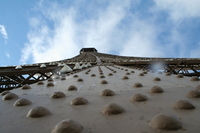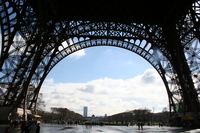 heading towards les champs elysees we came by the trocadero, a big place with a nice view to the eiffel tower. but we enjoyed the nice spectacle some japanese people gave us. see the pics...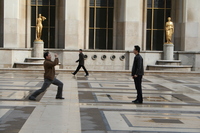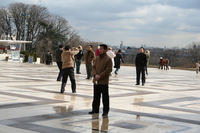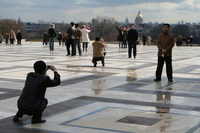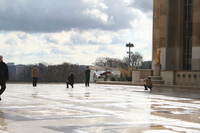 notice the two japanese people on the lower left picture next to the lady in white. they were posing the same way as the other two, but unfortunately i was too slow to take a pic of that since i needed to get the right angle to have them lined up in a row - damn. on the one end of the champs elysees the arc de triomphe is located, our next stop. impressive statues and reliefs can be seen there.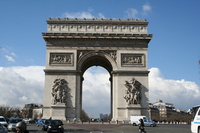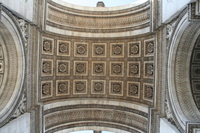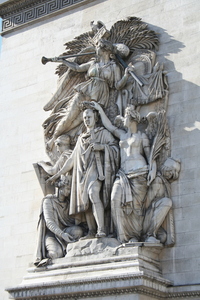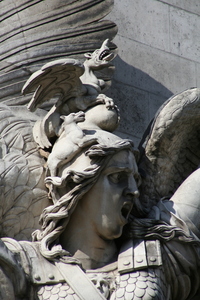 afterwards we walked down les champs elysees, the famous shopping promenade, glancing at the various shopping windows. you find everything there for a luxury shopping tour - perfumes, cars, disney, jewellery, expensive restaurants (amongs McDonald's and the french pendant called Quick), etc. pretty amusing was the disney shop one can find there too. they had fairy costumes for kids, plush disney figures from all films, from aristocats to stitch. pretty weird, but people seem to like it.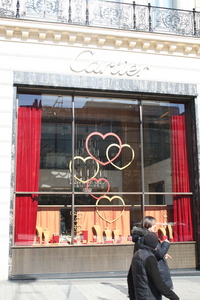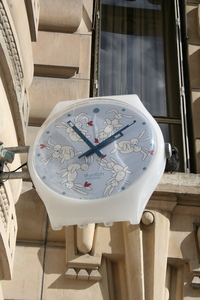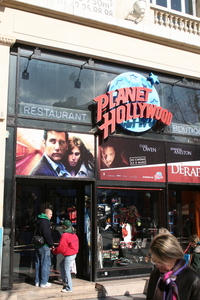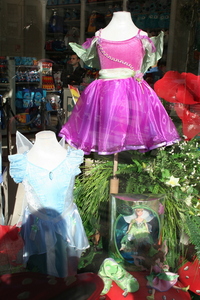 next and last station for this days tourist tour was the basilica of sacre coeur, situated on a small hill with a nice view over paris. when we entered the church there was a mass, so we left again since we didn't want to disturb. instead we put our focus on the gargoyles on the outside walls. one might recognize the place from the film "the fabulous destiny of amelie poulain".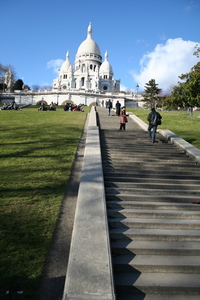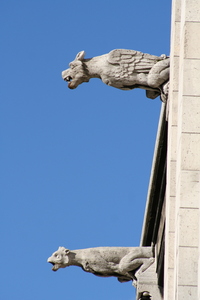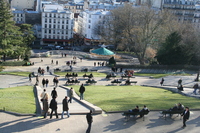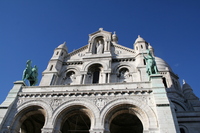 day_03
: we started our tour at the cemetery of mont parnasse. it seems the cemeteries in france are much more beautiful than the ones we have (except the central cemetery in vienna which has beautiful old graves too). the layout of the graves is pretty asymmetric and seems to be random of some sort. nonetheless a very nice place, i enjoyed the walk.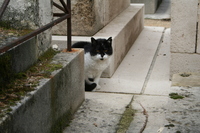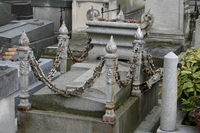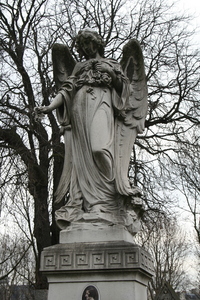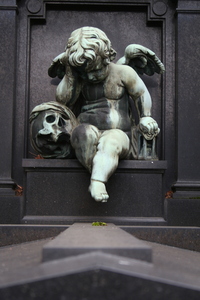 we left the cemetery and drove to notre dame de paris the pretty famous church (remember the hunchback and the disney films?). i mainly wanted to see the gargoyles since i find those "creatures" so beautiful and most of them are elegant - a bit weird since they actually were put there to scare daemons (and also people i guess). but maybe it's because they are somewhat similar to aliens - who knows... the church itself was very impressive inside, but again loads of other tourists.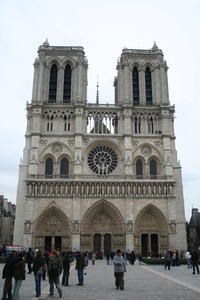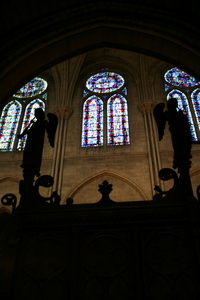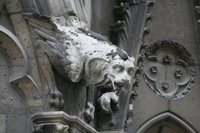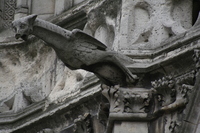 on our way to the shopping center galleries lafayette we saw striking students, the quartier latin and the sorbonne university. pretty exhausting day, so we spent the rest of the day in our hotel room and enjoyed some french television (and "good bye lenin" on arte in german with french subtitles).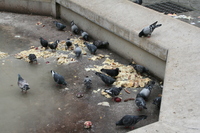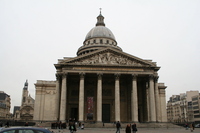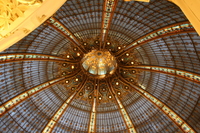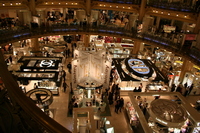 day_04
: last day. the louvre, the biggest museum in the world (according to wikipedia). since it is _really_ big we decided to look at the egyptian exhibitions and have a look at the more famous stuff like the mona lisa, nike of samothrace, venus de milo, etc. of course no pictures were allowed to be taken from the mona lisa. the painting itself is actually not that impressive and i assumed the canvas itself to be a little larger. one could get as close as approximately three metres to it and there was an additional bulletproof glass put right in front of it. pretty impressive for a painting i consider to be far from the most "beautiful" one in this museum - but for sure it is the most famous one. the egyptian exhibition was also very big and it took us several hours to skim all the exhibits (and i'm pretty sure we missed some pieces since the louvre is also an impressive maze). as one can see in the gallery i took loads of cat related pix, since the cat was a holy animal to the egyptians. i also found the mummified cats really impressive.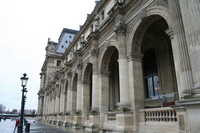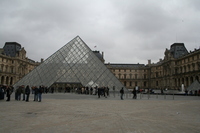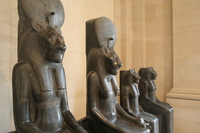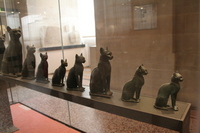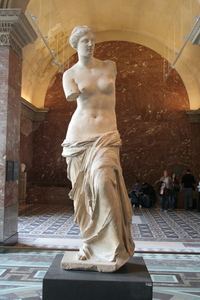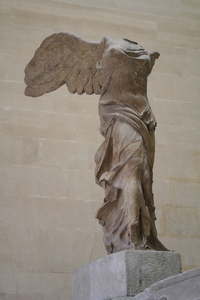 after about three and a half hours we left the museum - looking at all this stuff makes tired too. we got a coffee at the cat cafe - though we both wondered why it was called that way, since there was not a single object that somehow related to a cat - maybe it's for baiting cat lovers? success. afterwards we went to the cemetery pere lachaise. yeah, right, the one where jim morrison, edith piaf, moliere, frederic chopin, etc are buried. btw, the homepage of the cemetery is really cute. have a look yourself
here
. stupidly we didn't buy a map of this really big cemetery so searching for graves of famous people was more a game of pure chance. but at least we finally found jim morrison (by the help of a bunch of fans i guess) and frederic chopin. honestly jim morrison's grave really is not that impressive. i saw some pictures of smeared up gravestones next to jim's grave. but it turned out to be a locked grave surrounded by clean stones. well, maybe once a year they remove all the graffiti from the nearby graves.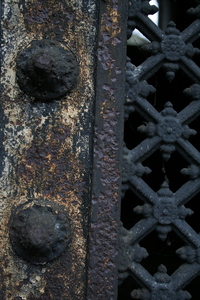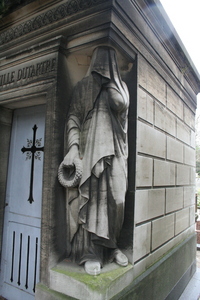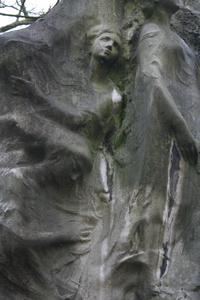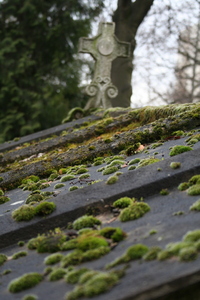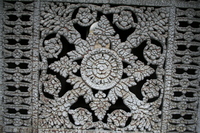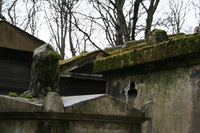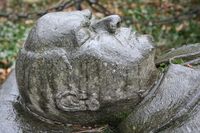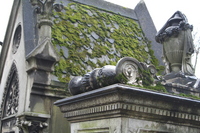 this cemetery was even more impressive than the one we saw in mont parnasse. i really enjoyed this place a lot. unfortunately it started to rain, so we gave up our search for more famous people's graves and instead went on to the next tourist feature, la grande arche. a wide open, vast area with lots of skyscrapers and buildings with glass claddings.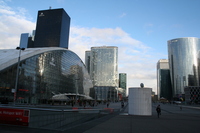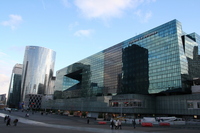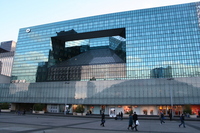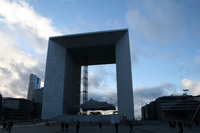 again very tired after all this sightseeing we drove home, had a nice relaxing evening, enjoyed the free (but impressively slow) WLAN access and went to bed early, since the next day we had to check out the hotel room early and get to the airport again to get our flight back home to austria. thanks to zombiequeen for this really fantastic and great holiday trip to paris. i really enjoyed the time with you in paris - every single second!