day 02
started in the harbour of strasbourg where a lot of house-boats are anchored. on one of the boats i saw my first cat here in strasbourg. unfortunately it was running away too fast so i could not take a picture of it (i was pretty sad). next to the harbour is the "orangerie" park with a bunker (or at least we thought it was one), a big lake, and a public zoo that seemed to raise storks. close to the park is the council of europe. but today no one was there, so kempes and me were the only ones there. some pictures (to keep the readers from falling asleep) from... ...the harbour, the orangerie park, and the council of europe...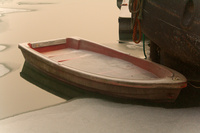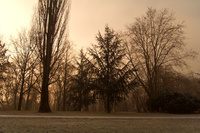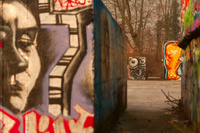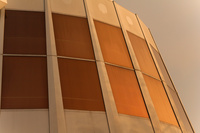 ...and some more of the council of europe...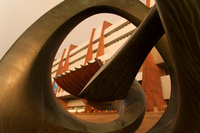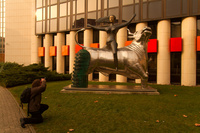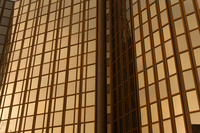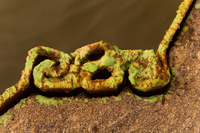 in the same area is also the tv station of "arte". we went in there and drank a coffee and then walked on to the buildings of the european parliament and the european court of human rights. ...and even some more of the european parliament, and the european court of human rights.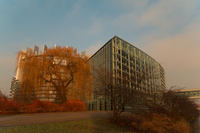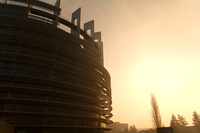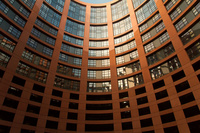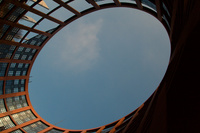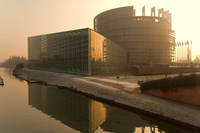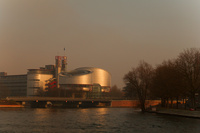 afterwards we met tony again and went to a brasserie. we ordered some "ordinary" stuff like a burger for kempes and pork meat with mashed potatoes for tony and me each. kempes had to bring some special beer brands (that seem to be available here only?) to austria so we wanted to go to a super market. but it was really hard to find one. actually, it's even very hard to find a grocery store somewhere. in austria there are loads of those stores everywhere, even placed right next to each other some- times - here, not. so we jumped into the car and drove the "nearest" supermarket, which took us about 20 minutes to get there. inside we found out where all the people buy the goods they need for their everyday life - in the supermarket. so there were masses of people in this really really really (i mean it!) huge store. at the checkout we had our next strange experience. there were two female cashiers sitting back-to-back, each one with a conveyor for the goods you want to pay. so we placed our goods there and it took them ages to get them registered by the barcode reader. in between the items they sometimes continued their talk, so it took quite a while until they grabbed the next item. the customers, on the other hand had the same attitude. they slowly packed their stuff into the bags and once they were done they slowly got out their purses to pay. so this all really took ages. oh well, we're on holidays, so we have loads of time...
day 01
of my trip to strasbourg with my former study-colleague "kempes". we started our trip to strasbourg at 00:00 on the 29th of december 2008 in linz. kempes brought his younger brother, since he's studying here for one semester. so we left linz by car and drove approximately six and a half hours - we took some breaks and once we missed the exit on the highway, so we had a little detour. we were rotating the driver, so everybody had to drive a little, but none of us could really sleep while he was not driving. so, after we we dropped off tony (the younger brother) at his flat, we arrived a little sleepy at the hotel, which is located in the same street as tony's flat. our room (of course) was not prepared yet, we had to wait until 14:00 - which was a little longer than we expected. but that was ok. at least we thought so. so firstly we deposed our luggage at the hotel, then the two of us headed right across the street to a very small "boulangery" (bakery) to get breakfast, while tony was at home sleeping. later we headed towards the center. luckily the guy at the reception gave us a map. at first the streets were really empty (although it was already about 07:00 in the morning). we walked around the center but did not really try to get somewhere specific, like sights or other famous places. in stead we took lots of photos and had a lot of fun. some photographic impressions of what we saw (since some people complained about missing photos in the bLog for my tokyo trip):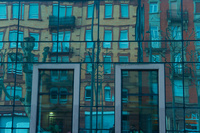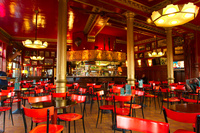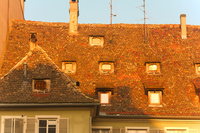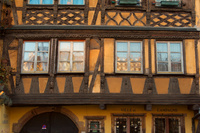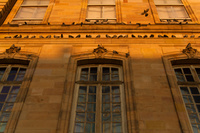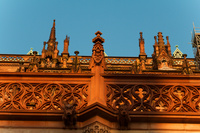 then we got to the big cathedral which one can enter and go up to a observation deck. according to wikipedia, the cathedral's height is 142 metres. climbing all the stairs in the narrow hallways was quite exhausting. remember, we had not much sleep, and additionally we drank a gluehwein before climbing the stairs. but we made it, and it was worth it. one has a very nice view over the city and also the cathedral itself is very impressive.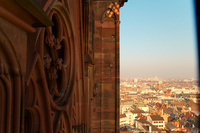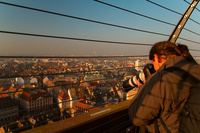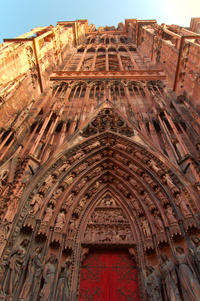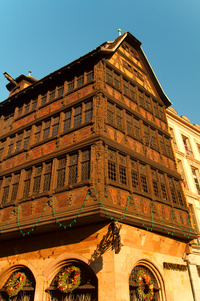 at about 12:00 we met tony again - though he had about four hours of sleep he didn't really look recovered actually. but i guess that's what we just looked like too. we went to a "brasserie" and had a "tarte flambee" (aka "flammkueche") which is a traditional local dish, and is somehow like a pizza, but yet different (unfortunately i forgot to take a picture of it).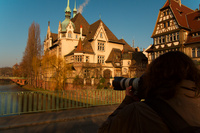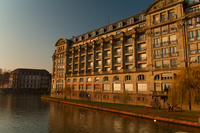 finally, at about 14:00 we arrived at the hotel again and went to bed to get some sleep. we got up at 20:00 again and watched a movie ("army of darkness" - perfect brainless stuff for this evening). so far strasbourg is a very nice and very small city with awesome and monumental buildings. since kempes is already sleeping, i will try to get some rest now too...