the annual seminar from the
RISC software company
took place from the 29th of june to the first of july 2006. this year we did a trip to gosau. besides the usual stuff, like presenting the company's balance throughout the last years, and the assets it gained, we did some hiking too. the first tour on friday the 30th of june took us to the zwieselalm. the tour lasted about 4 hours and was slightly exhausting in the beginning and the end, since the path was pretty rampant. but the middle part was absolutely ok (see the picture below on the left). the weather was pretty ok too, since it was cloudy all the time, but unfortunately a bit rainy too from time to time. due to some heavy storms within the last few days some areas of the wood we were walking through were destroyed. it really looked like a battlefield (see the picture below on the right).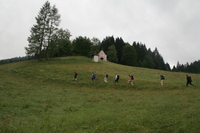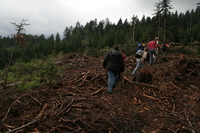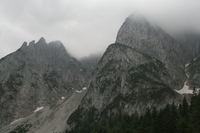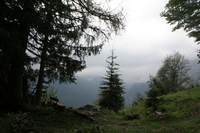 the last hundred meters to the cablecar station we got a cow escort. funny somehow. they joined us, and walked along with us for quite a long time.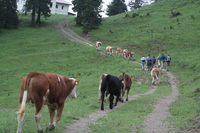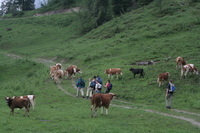 the next day, the 1st of july, we had a trip to the koppenbrueller-hoehle, a stalactite cave. inside the cave it was dark, cold and very humid. we got a guided tour, which did not last too long since most parts of the cave were flodded anyway, again due to the heavy rainfalls within the last few days. so the tour lasted only about half an hour. but it was really wonderful inside (for those that are not so sensitive to chillness and dampness).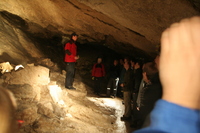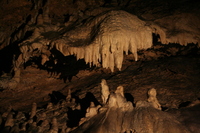 all in all it was really a nice break to my daily routine on the diploma thesis writing. a little strengthening, fresh air, nice people (including zombiequeen) around, and loads of fun with my co-workers. more pics are available
here
.