yow, again it's the time of the year where linz gets flooded with all kind of more or less weird people - artists, that is - as it's ars electronica festival time again. i started
day 01
in the brucknerhaus to fetch my festival pass. there were already a lot of artists with their projects and exhibits. besides urine treatment to make it drinkable water again, strange fossil creatures, and a shoe made of flesh and skin there was loads of other weird and awesome stuff. next stop was the opening of the exhibition on the second floor of the ars electronica center with a focus on japanese artists. again loads of strange and fascinating stuff and a lot of media and press people. since it was quite crowded in there i decided to go on to the AEC quarter, which is located outside on the huge concrete area next to the AEC.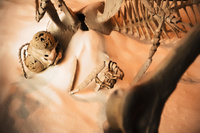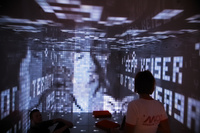 next i rushed to the opening at the kunstuniversitaet. they had an area with works from the MIT lab and another area with works from local artists. the opening itself was like a baroque ball with people with masks and beautiful dresses and suits. unfortunately most of the MIT stuff was behind glass-cubes and not interactive at all. too sad, too bad. funny things one could see there was a headbanger-hero and a hello-kitty game.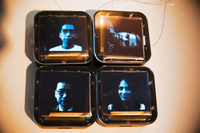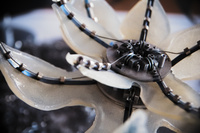 on the third and fourth floor (but actually not allowed for the public, but i sneaked in) of the kunstuniversitaet were the self-made animals for the klangwolke ("die flut") which will take place in a few days. rooms full with boars, snails, sharks, leopards, lions, gorillas, crows, unicorns... no wait, no unicorns, but dinosaurs were up there. very impressive what people made there (they were already working on those animals since may).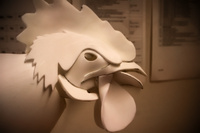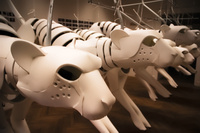 next opening took place at the OK. to get there it usually takes about five minutes by bike. but it starting raining cats (meow) and dogs just when i got out of the art university. so this tour took me a little longer and i was totally wet. i got soaked to the skin. but the shower was worth it - another bunch of awesome exhibits on the reopened first floor of the OK. most impressive stuff to me was a plotter that was (ab)used to write the bible with a calligraphic pen. it took the machine four lines to draw a simple "a", for example. another nice thing to watch was the "nemo observatorium", a transparent PVC cylinder with styrofoam beads in it that get blown around and form random patterns inside the cylinder.