well, who would have guessed... yesterday i bought sun cream for my face, since i had a sunburn, and
today
there's a typhoon warning
T1
. this means no sun, a lot of rain, high humidity, and, and that's the good side of it, falling temperatures. so today it had about 26 degrees celsius, which is - compared to the average 30 to 35 degrees so far - very acceptable to me. but... no need for sun cream anymore. but unaware of the typhoon warning T1 is started my trip to "lan tau" island, thinking the rain would go away soon (as known it from austria). but it turned out i was wrong. so this day was ok for me, but a huge threat to my poor camera. my lenses grew damped, the body was exposed to a lot of water. but it seems it survived this day. bad thing is... it looks like the typhoon will stay for a few days. so maybe tomorrow i will make it easier for my camera and go to a few museums. we'll see... at the MTR station there's the entrance to the cable car system called "ngong ping 360"[002-026,161-170], that takes one right to the "po lin" monastery, the biggest (sitting) bronze buddha statue in the world, and a bone relict of buddha.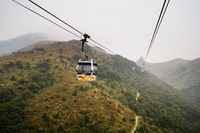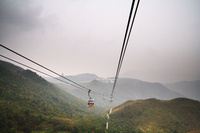 when i left the cable car cabin it was raining quite a lot, and an australian told me this will not change for today. so i started my tour to the buddha statue[031-033,045-049,053-054,061-063]. 200 steps[028-031,055-056] lead up to the big statue and the museum[042-044] inside the statue.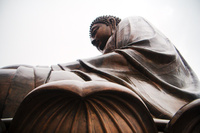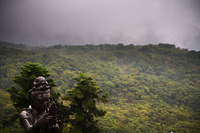 inside the museum of course no photography was allowed. and the bone relic would have only been visible through a magnifying glass, but it was locked away in a glass case anyway. so the closest i could get to it, was about four metres. i didn't see the piece of the bone. too sad. next to the statue there's a monastery[067-109] with the monks taking care of the complex. they had vegetarian food[103,107] only offered at the canteen. so i had some sweet-sour, some "pork"-flavoured, and some unknown flavoured tofu pieces. totally delicious and very cheap.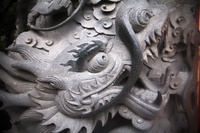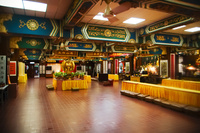 next thing i wanted to go to was "the path of wisdom". but i soon found out i was the only one willing to go this path. so i was walking through a dark and foggy forest, while it was raining heavily down on me. but what i found was worth it. no, not the path of wisdom yet, but an abandoned house[111-132], surrounded by scarecrows[111-113]. pretty spooky scary, but awesome for taking pictures. i just love abandoned buildings.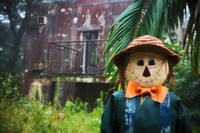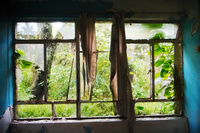 after exploring the ground floor of the ruin (the stairways to the first floor and basement unfortunately were obstructed) i went on with the seek for my wisdom. "the path of wisdom"[135-142] turns out to be about 38 wood beams, each of them several metres of height. quite impressive in the fog. but again, a little spooky, as i was still all alone. so what does this tell me? i'm all alone in the fog and rain on my path of wisdom? i have no idea.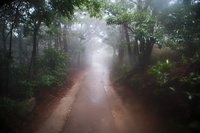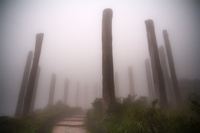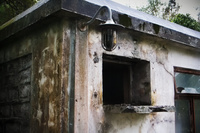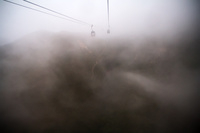 on my way back[143-146] from enlightenment and wisdom i came by another few abandoned houses[147-158]. again very beautiful, but unfortunately inaccessible. when going back again to the MTR station via the cable car it was really foggy and windy. the cabin[161-170] was shaking and sometimes visibility was limited to about 15 metres. another spooky event, since once more i was alone, this time in the cabin. but... i found a McDonald's near my hotel. so, tomorrow i will have breakfast there. yippieh!