while playing halflife2 - episode1 yesterday night, i suddenly heard a big bang and the ceiling was illuminated by a bright orange light. at first i thought it was a firework, or some kind of bengal fire. so i rushed to the window to have a closer look. well, it was a car that caught fire. strange enough the fire brigade was already there. so i grabbed my camera and took some pictures.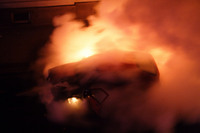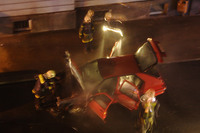 a few more pictures can be seen
here
... oh, and by the way, i finished halflife2 - episode1. pretty nice sequel, and i can't wait to get the second episode. well, besides those two "events" nothing really unboring happened, so stay tuned for more boring stuff! i'm pretty sure there will be loads of it in the future...