today was my first working day again after 16 days of absence in the office. since my life is boring, there's not too much to report, but just a few really boring things... firstly, while being at home, i finished some games i always wanted to play but never had the time to, either because i was writing my diploma-thesis, or there was no spare-time due to work overload in the company. so here's my list of games i did in approximately 2 weeks: + Unreal 2: the shooter basically is pretty ok, but i was grievously missing a real link to Unreal (aka as U99 or Unreal 1). + FarCry: not really my style of FPS, and at the end i actually got bored, so i somehow cheated by doing quick-saves and -loads. + Halflife 2: yes, that's my kind of shooter. i really enjoyed it. as much as i did HL1 back in the late 90s. i enjoyed every single level. + Halflife 2 - Episode 1: the sequel to HL2. same fun as with HL2. nice sequel, nice storyline. + Doom 3: YES! it's definitely the most tense, horrifying, and scary FPS i ever played. extremely dark, creating a great atmosphere by using sound- and lighting-effects. also the levels and monsters have a astonishing level of detail. definitely my favourite. also i like the main-menu title by chris vrenna, former drummer of NIN. maybe because it does sound like a tool-song... secondly my latest alien stuff i won on eBay arrived at the office in the meantime - yippieh...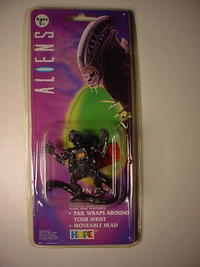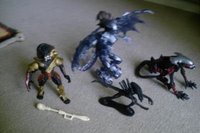 a cool alien watch on the left and some small alien figures (included with a predator-figure which i gave to
lexx_
- hope he has loads of fun with it). i guess some eBay selling mum looted her son's nursery. yeah, so back to boring working-routine again. i like it - and yes, i really mean it!