having plenty of sleep i felt totally fit on
day 02
. so, according to the tradition when i was in japan, i was searching for a MacDonald's restaurant to have black coffee and croissants. unfortunately i haven't found one. instead i ended up at a starbuck's cafe, full of americans (or english?). so i had a tall americano (following the tradition i started on my america trip) and a blueberry muffin for breakfast. i decided to explore my neighbourhood today, called "tsim sha tsui". first stop was "1881 heritage"[001-015], a former marine police headquarter, which is an old victorian building. today there are all kind of luxury shops in there. first time i got strange looks today because i definitely didn't fit in there. near by was a construction site, and skyscrapers. but skyscrapers are actually everywhere. almost all of them are old, ugly, and huge, but somehow that's something typical for hongkong i guess.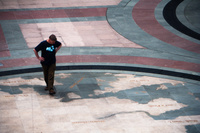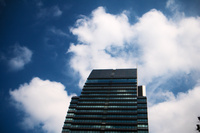 next i took a walk along the waterfront[016-046], where one really has an awesome view on the skyline of hongkong. during the day i always went to shopping malls from time to time to enjoy the cool air inside, since outside it's really hot. though there's always strong wind it still is hot. inside the "harbour city"[022] mall there were all kind of luxury stores again. second time i got strange looks today.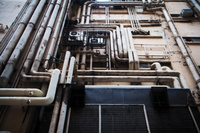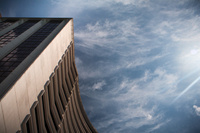 some special things (amongst the really fabulous view on the other islands) along the waterfront are the old clock tower[049] (unfortunately not open to public), stuff at or in the "HK cultural centre"[047-089], and the "Avenue of stars"[090-120], where all kind of chinese movie-stars have their names and sometimes their hand prints on the ground, just as in los angeles. notice the construction site using bamboo for building scaffolds[115-117,126].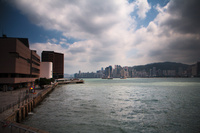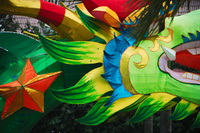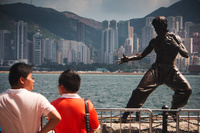 next i came by the HK polytechnic university[130-137], a very huge campus with loads of buildings and loads of students. a totally busy and crowded place.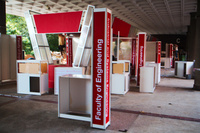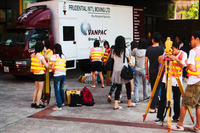 on my search for a temple i had to leave the usual tourist roads, and thus ended up in areas where i was the only non-asian person there. still i felt totally safe. was nice seeing a little bit of the non official hongkong. the buildings got even more decayed, the pavements got narrower. that was the third time i got strange looks today. the temple itself was quite strange (compared to the ones i know from japan) and taking pictures was not allowed. too sad, as it was quite a nice one (though very compact, as it was only one room. last stop for today was "whampoa plaza"[149-157], which actually is located in the area called "hunghom". "whampoa plaza" is a shopping mall that is built inside a ship. so within narrow streets, ugly skyscrapers stands a ship, far away from the water. pretty weird, but nice shops inside. chinese people seem to share a lot of stuff they like with japanese people, like the moomins, hello kitty, relakkuma, doraemon, and loads of other stuff i know from japan. in a bookstore i found another book of "chi's sweet home" from which i bought one book in japan, one in america (in an japanese bookstore), and this one here in hongkong (though i think it's translated and not original japanese anymore. not sure though). some more trips and i have them all.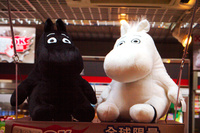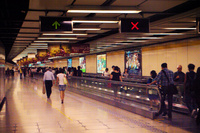 there are ads all over the city that say something about a "dress special day", which will be held on the 30th of september. too bad i don't have special clothes. i wonder what this day will look like...