day 03
of my trip to an exceptional city of china. on my plan: "kowloon park" (which i didn't visit yesterday although it's just around the corner of my hotel), "yau ma tei" and "mong kok", and "wong tai sin". good thing: i found a MacDonald's in kowloon park. bad thing: they don't have croissants. just "choco-pies". oh well... one day i will find my perfect breakfast here in hongkong. i hope. kowloon park was full of life. it was full of old people doing all kind of activities, such as "qi gong", "tai ji quan", or... honestly, i have no idea what they actually did. but it's the cliche of china: old people doing exercises in parks. that's exactly what i got. and it was fun watching them. some where really elegant, smooth, and such[019], others where... quite the opposite. but, everybody was physically active, and that's what counts i guess. some in groups[022-023], some alone[044], but everyone with total devotion. some even had swords[024-026], some had fans[028-029,032-033]. others played instruments[005-006] and/or sang[009] (both can be weapons too).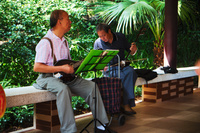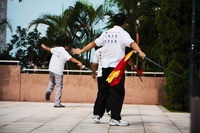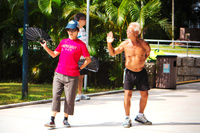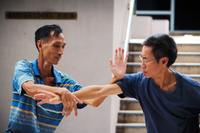 besides old and/or active people there are loads of birds and turtles (and other animals such as dragonflies and parrots and pigeons in cages) in and around the ponds.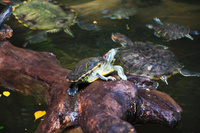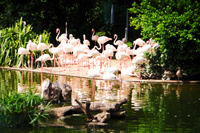 quite close to the park was "tin hau" temple[056-065], a very small temple, where taking pictures was prohibited (as usual inside the temples). the way back[066-067] to the closest underground station brought me through the skyscraper valleys back to the main street of "tsim sha tsui", namely "nathan road". i will from now on try to reduce skyscraper photography as you might, by now, have already found out that they are... huge. and everywhere. and ugly. most of them. some are nice[049] and modern[050] though.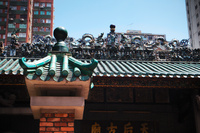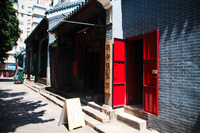 the metro brought me straight to "wong tai sin" station, where one can find the "sik sik yuen wong tai sin" temple[072-140] - a huge temple complex. since japan has taught me i dig temples (and shrines), this was my little heaven in hongkong (and a rather time consuming one). but before i went to the temple i cooled down a little in a close by mall called "wong tai sin mall"[068-071,141-147]. i started my temple tour in front of the main temple(s) where there are two floors full of soothsayer's booths[073]. loads of them were occupied, most of them with couples. quite interesting actually. next stop was a huge garden called the "good wish garden"[074-127]. again turtles, dragonflies, and huge fish were all over the place. very peaceful, very quiet, almost no people there - absolutely wonderful and impressive.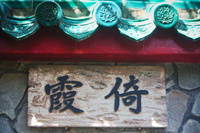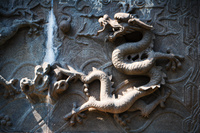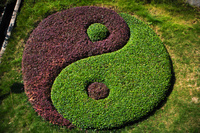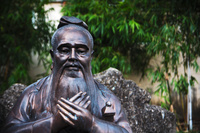 now it was finally time to enter the main temple. inside the temple buddhisms, taoisms, and confucianisms is practiced. thus there were quite a lot of people, having tons of incense sticks lit. inside the temple buildings there's always so much smoke of them, i always get a little dizzy when being in there for a longer time. i guess the people working there are on those incense stick drugs all day long. must be the reason they all were so very friendly to me all the time.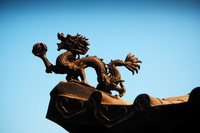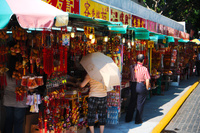 to get some water and onigiris (didn't know they have them here too) i went back to the mall. in there i found a small market, where they sold things like fish-slices, chicken-something and salted raw, fried and deep-fried fish. same with beef, where they had dark-red slices of meat. looked strange and unknown to me. also they had beef tripe on a stick. very... not delicious.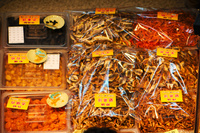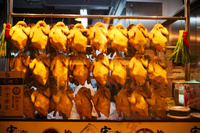 i think i will get a t-shirt saying "want no suit, got apartment". whenever i'm on "nathan road" (on which my hotel is) all kind of guys ask me whether i want a suit (tailor made of course) or if i need an apartment. honestly, do i look like a guy that needs or even wants a suit? and if i would need an apartment, shouldn't i somehow have some luggage with me? unfortunately this is really annoying. but i guess that's the price for the low budget hotel. worth to pay actually.