today,
day 04
, i went to "wan chai"/"causeway bay". they nice old trams there[001-002], and the area is not plain. instead all the skyscrapers are built all over the hills, and quite often there's also unused green wood areas. right next to the MTR (the metro) is the "tin hau" temple[008-023]. there were no "no photography" signs, and since there was another tourist in there taking pictures i thought that's a good chance of finally getting pictures of the inside of a temple. this one was quite typical and (for my eyes) looked exactly the same as the other ones i have already visited. the only difference is size.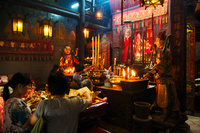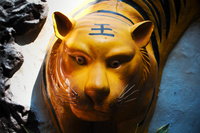 my guide book said there should be another temple near "tin hau" temple, but actually i didn't find it. too bad. so i went on to "victoria park"[027-035], a big park with loads of green areas, a separate jogging lane, and other stuff like a model boat area[043]. after taking the exit on "gloucester street"[044-051] and walking around some side streets i was searching for the "noon day gun". the gun is located right on the seaside, but between me and the gun there was "gloucester street" and no pedestrian crossing. since my guide said there's a subway somewhere i was searching for the usual subway signs. but this subway was very different. the entrance was totally hidden (i had to ask twice where it is, since i didn't find it, though i was standing only a few metres away when i asked the second time). so first step is to go partially through the underground car park[052], then following long hallways with sea-water pipes[053-054] until you finally reach the other side. quite strange, but i did it. the gun[056] itself was a little disappointing then actually (for all the effort i had to take).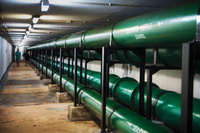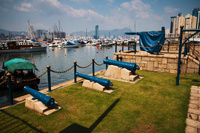 next thing i wanted to see was the "HK convention and exhibition centre" (aka "HKCEC"), the huge building i saw on day 02 ([067]) from the other side of the harbour. on my way there i came by the "chinese resource centre" that has some nice dragon things like a fountain[070-072,078-080] and a wall[081-084] on the ground floor. very impressive and totally nice.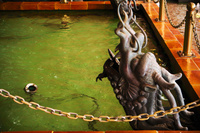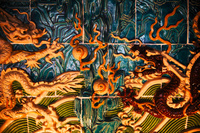 and so finally i arrived at the "HKCEC"[086-107] that somehow reminded me of the opera house in sidney. at the centre there was still the jewellery and gems fair that is now ongoing for days. i often see people running around with access passes and jewellery related catalogues or shopping bags.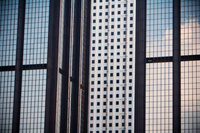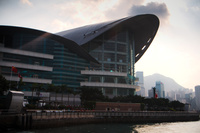 to get back to "tsim sha tsui" i took the ferry[108-110]. it took me about eight minutes to get back there. quite fast, quite cheap, and definitely nice. so i went home, took a shower, changed cloths and was heading for "mongkok" (been already there on day 03) to meet with Monique and a friend of hers, Winnie. Monique is a pen friend of jake's girlfriend Andrea. Andrea wrote her an email and asked if i could get a guide for one day, and she agreed. later Monique's husband Derrick joined us. we were strolling around went to a soya restaurant. they had all kind of tofu stuff there. like a sweet soya bean thing that reminded me of pudding somehow. then some deep-fried tofu, and some other deep-fried tofu thing with a fish paste layer on top of it. all very delicious and very healthy i guess.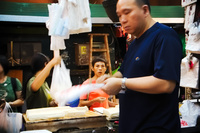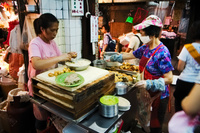 next thing they showed me was "temple street"[115-126]. though i've already been there, this time all the shops were opened and the market was full of life. they had all kind of stuff there. from clothes to electronic things and hello kitty stuff for the kids. strange, yet fascinating mixture. oh, and here i saw the first cat on hongkong! actually i saw four all in all.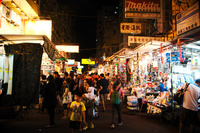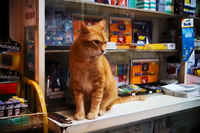 then we decided to go to the "HK jockey arts club"[127-128,138-143], a place that houses studios of loads of artists. one of them was specialised in glass production[129-137]. and we had the chance to watch him doing his art. it was time for dinner. so my very friendly asian guides asked me where i want to go, and i decided (of course) for traditional local restaurant. so they brought me to some area where there was no other caucasian being besides me. at the restaurant[144-145] Derrick ordered something for all of us. they brought goose with sweet-sour sauce[147], rice mixed with dried shrimps[148], vegetables with garlic sauce[149], chicken with onions[150], and this pot[153] full of weird things. in there was pig liver, pig hind gut, and frog-legs. though i knew how liver tastes the rest was new to me. the hind gut was not my thing, but the frog-legs were quite delicious.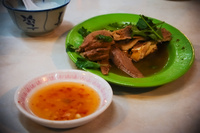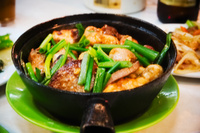 after we finished eating and drinking we drove back to "nathan street", once more passed by the "temple street market"[152-168] and finally split up at "nathan road". this was a very nice and enlightening evening with three inhabitants of hong kong. thanks very much to them.