my trip for
day 08
brought me from "central" to "sheun wan", starting at the "statue square"[02-03]. there they have huge drums (like the one they have in every temple) put up as part of the 60th anniversary of the people's republic of china, which will be celebrated on the 1st of october. then i was heading down to the harbour[06-09] where several ferry peers are located. right next is the "International Finance Center Two"[10-14] ("IFC II"), which is the second highest building in hong kong. since it was again raining all day long i tried to get through malls from sight to sight. thus i ended up in malls for staying dry rather than for cooling down as in the last few days. on an entry to a subway i found this little cat[17] that was resting on this chair while loads of people were walking by. cute kitty. i finally reached my next stop, namely the "bank of china"[23] building, which has an observatory on the 47th floor. but it was closed today. too bad, i really wanted to get an overview in a building that close to the harbour.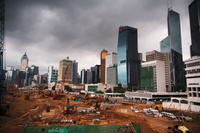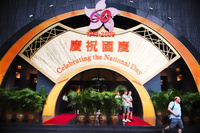 next thing i actually found by accident was "st. paul's cathedral"[29-31] where a piano convert was just about to end when i entered the church. again, too bad. a few hundred metres away i spotted another church[32], but i don't know the name since it was not listed in the guide book. since hong kong is built on hills and islands, i had another steep way to the "HK zoological and botanical garden" ("hkzbg"). in the zoo they have lemurs, apes, turtles, two crocodiles[47] and one snake. additionally loads of plants spread all over the park. also they had a stuffed tiger[43], that was a donation from a zoo in germany, and bred two offspring. sadly the kitty died last year. since all the animals were in cages i did not take pictures of them but rather took a picture of some wooden animals[48-49] that are also spread all over the park. also they had nice benches with all kind of animals like cats[41-42] or apes[55-57]. lovely zoo in the huge city of hong kong.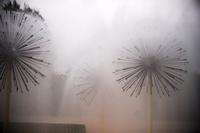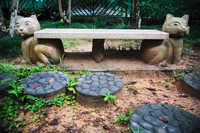 next stop was an old stone stair[62] and the four last gas lanterns[63] in hongkong. then the weather got really very very bad, and i was hasting to "man mo" temple. next stop was "lok ku road", via the "hollywood road"[64-70]. usually at "lok ku road" there should be the "cat street market" (meow!), but due to the really heavy rain no market stalls were opened. additionally i was soaked to the bone and decided that this is not fun anymore and was fighting my way to the next MTR station. when i arrived the station i really felt like i had just taken a bath with my clothes on. good thing about the rain: it's a little cooling down. the intensity of the rain showers is called "
amber
" - in formation sheets were put up in the hotel elevators. looks like the weather wont change soon...