this
day
i wanted to go for "the peak", the well known spot in hong kong where you get the most beautiful view of the town, at least according to the brochure that you get when you buy the ticket). the ride with the peak tram[002,004,015,046] is very nice. totally steep up the hill, it's really scary from time to time, especially since i got no seat but was standing all the time. once arrived at the station, i found the usual thing one finds when they get off some transport thingie: a mall. a huge shopping mall[029-031,035,049,053-061,071-072] up there with all kind of different shops. from luxury good shops to furniture and the usual souvenir shops. actually malls are everywhere it seems to me. additionally one can find a "madame tussaud's" wax museum [006-007] up there. a huge observation deck is put right on top of the mall. it's called "sky terrace"[012,019,027-028, 066-067,098] and to get there extra entry has to be paid.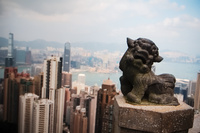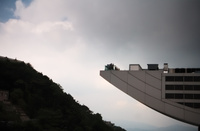 i really have a tendency to end up all alone here in hong kong. and so i managed to do so today again. i wanted to walk further up the hill to see "peak garden" and take the "governor's walk". so while walking the "mt. austin road"[076-097] i came by a small unnamed (at least i think so) garden[073-075] to finally come to "peak garden"[083-084]. it was crowded with participants of a baptists convention, who were dancing and singing, and 99% female. after listening to some of their songs i went on to take the "governor's walk"[087-092], a circle walking path.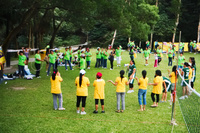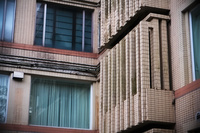 so, after walking back to "the peak", taking the tram to get back to the MTR station again, driving home, taking a shower after this exhausting hiking day ("mt. austin road" and the "governor's walk" were quite straining), just to get back on the street again to witness the 60th anniversary celebration of the people's republic of china. a huge firework was planned which of course i wanted to see. while being in my room and changing i was watching tv and they showed live streams from beijing. quite impressive ceremony although it was a weapon show all the time. quite impressive and quite disturbing at the same time. to get to "victoria harbour" was not an easy task it turns out. the streets were closed by the police, and so everyone was walking on nathan road[110], a street that usually is full of cars and buses. was strange to walk there where one would actually get killed within a few seconds during normal operation. so i en joyed walking with the crowd to end up in some unknown street [111-112]. though i somehow knew where i was it was quite unclear to me where exactly the fireworks will take place. but i was in the middle of a crowd so i thought that must be a good viewing point[113-119]. well, it turned out all of us were wrong. the view was not that good, but it was ok. the people were really shouting "aaaw" a lot, especially when very bright explosions took place. was really nice, as they did it until the very end of the fireworks. people in austria would do that for maybe a few minutes. they had nice rockets with all kind of shapes like a heart and a smiley. also they had nice effects i have not seen before. all in all a nice spectacle and a good atmosphere in the crowd. i watched the fireworks later on tv when i got back to my hotel room. i really missed some cool stuff. hehe.