today
i went to "tsuen wan", a district a little outside of the core of hong kong. at the usual mall at the MTR station[001-002,005-009] i found a pet shop that had cats[004,006-007] in the shopping window. maunz, they did not seem very happy though, or maybe they were just lazy. who knows. first sight i found was the "sam tung uk"[011-024] museum, which houses an exhibition of the daily life in this area from a few hundred years ago until today. it describes the farmer's and factory worker's life. additionally the museum building itself is an relict from around 1786. next thing i wanted see was the "chuk lam temple". while walking there i saw three wild cats[025-026]. at least it seemed to me they were wild ones, since they were very shy. the one in [025] sits on the tree in the middle of the picture. good luck on finding the little cutey on the picture. unfortunately my book guide is a little inaccurate when it comes to the map of this area, furthermore it lacks street names of important streets to get to the temple, and thirdly it seems a little outdated too, although my edition is from 2007. so i ended up a little lost in some streets that did not resemble anything i found on the drawn map. so i asked some locals, a group of three young guys. they said i could join them on part of my way to the temple since their home is located along this route. great! we had a nice little chat and then they almost brought me right to the entrance of the temple and the included monastery. the temple[027-059] was totally nice and it had loads of cats[047-059] (in numbers: around ten cats, ranging from cute little curious, but yet very cautious kitties, to old grumpy cats giving me an angry look). they were all very very shy so no petting, unfortunately. it was even hard to get pictures of them. but i managed to take some (although, sadly, they're all out of focus). "wee, you're a kitty!". the monks and employees there gave me strange looks since i was so happy seeing so many cats. again i almost got locked in, but this time an old lady escorted me to the exit. she was only speaking chinese and she said a lot of things to me (maybe that i'm a stupid tourist or such?) but she was totally friendly and waved at the exit as i left while she stayed. very kind and friendly.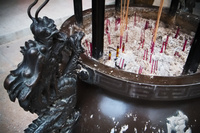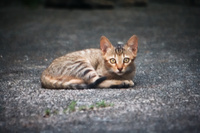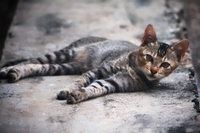 ah, yeah, of course i was the only caucasian again since nearly half of the MTR ride to "tsuen wan" station. this changed rapidly when i got back to the centre to see two main "mid autumn" festival highlights. first one was the "tai hang fire dragon dance"[061-103]. it started with a parade of cute young girls and kids having lanterns. some pipe bag dudes (no idea what they represented though) and some drummers. and then came the fire dragon. a 67 meter long dragon, made of hay and studded with thousands of burning joss sticks. the dragon is hunting to big spheres, again made up of incense sticks. the carriers turn and wave the spheres and the guy holding the dragon's head also spins and waves the dragon around. the guys holding the body and head of the dragon often changed, so i guess this thing is quite heavy. also the heat of the incense sticks makes this job even more straining. very impressive spectacle actually.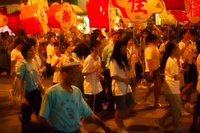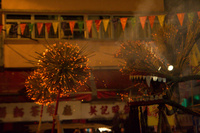 next i headed on to the "lantern carnivals"[105-167], situated in the huge park i've already crossed on day 04[027-028], this time in the dark and lanterns all over the place. additionally all kind of activities went on there, like some old fashioned games[108,167], theatres[113-114,162-166] and live performances like jugglers[116-120], or dancers[150-156], and winners of some lantern creating contest[131-132,138-144,146-149] of course loads of people there (including many caucasian tourists).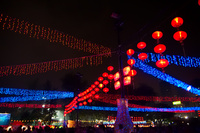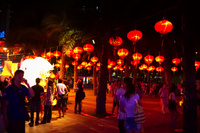 what a nice day and evening!