last full
day
for me in hong kong, tomorrow at about 13:00 i will fly back home. did not really do much today, i was just wandering around, window shopping, drinking coffee, watching people, sitting in parks, etc. - so all those "doing nothing" things, since i did not really have a plan for today. no sight, no tour, just enjoying my environment. i spotted two cats today. one i already saw on day 08[17], and another cat that was staying with humans in a pharmacy.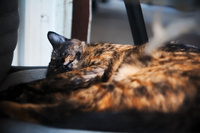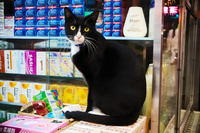 funny thing i didn't mention yet: people tried to avoid me all the time during my stay here. whenever i sat in a cafe, restaurant or tram, bus, etc. people were trying to sit somewhere else rather than next to me. and even if a seat next to me was the only choice to sit down or eat at a restaurant, they either waited until some other seat got free, or they left the locality. well, i'm sure they had their reason, i'm fine with that, maybe it's also just a wrong impression i got. another thing is that people always assumed i prefer fork and knife when eating. well, i did not, so i always had to explicitly ask for chopsticks. oh, btw. Monique and Derrick (which i met on day 04) said that my way of using the chopsticks was way more better than theirs (due to laziness on their side). that actually made me laugh. another thing i noticed is that people in hong kong are very loud. they are way louder than in japan and they do telephon calls on the metro, tram, or bus. some even burp quite loud and for some the table manners are horrible. most of them look very angry but once you talk to them, they turn out to be very friendly (as actually all people i talked to were).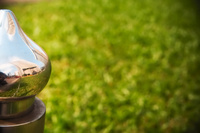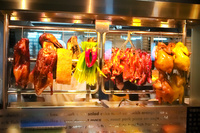 in hong kong there's also the tendency to tell people what to do and what not to do on ads, signs, and tv screens (as in stations or on trains). a lot of regulations everywhere - just as in japan. and warnings about swine and bird flu everywhere. they put up alcohol disinfectant dispensers in many public locations (especially where a lot of birds are around). McDonald's has them in every restaurant. and you can find them in all public toilets. and a pretty dangerous habit is absolutely common here: pedestrians have to give way. cars (especially public buses or taxis) do not stop, even on the most crowded streets, even if there's a zebra crossing. combined with the fact that they drive on the left side of the street, and the fact that it is often hard to tell if the street is a one-way street or not, it's getting quite dangerous from time to time. at most crossings they painted "look left" or "look right" on the ground. this makes it a little easier, but again shows, that cars are taking a higher precedence over pedestrians. my things are packed, i'm ready for tomorrow. i will use the in-town check-in which is located only three MTR stations away from here. so way better to have my luggage transported there than carrying it myself. additionally there's a "starbucks" cafe right next to it. been there today to check it out.