we left stockholm[001-003] quite early in the morning
today
, heading back again to the airport. our plane then left on time bringing us up northwards to kiruna[013-053]. loads of snow, a nice sun- set in the early afternoon and a really small airport is what we were facing after landing. then we got our car, a ford focus. it was preheated, a thing pretty common here in sweden. you plug your car to some power-outlet and the engine gets warmed up and so does the cabin if you have some heating device in there. pretty weird but at least we didn't have to get on to a totally freezing cold car. additionally the windows are not frozen or covered with ice or snow. so we started driving to kiruna city to get some supplies (as in alcohol from a system-bolagen, a liquor-store with a monopoly on selling alcohol) and a little food. later we had some strange food at some fast-food restaurant[047-050] (as we guessed), namely a cut sausage with mashed potatoes and sauces. pretty weird and not as tasty as we had one in stockholm.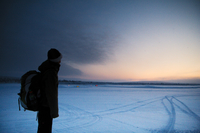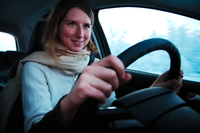 after doing some PEBKAC on the tomtom GPS (really totally my fault) and thus having two hours additional driving to the wrong village we finally arrived at the ice-hotel[054-165] in kiruna. a totally awesome place. the hotel offers warm and cold rooms. cold rooms are totally made of snow and ice, with reindeer fur and lights and some ice furniture as chairs and tables. additionally there are carved sculptures and other artworks all around the places. each room also has its own theme. there is also a bar totally made out of snow and ice selling "absolute vodka" exclusively in ice glasses - very environment friendly.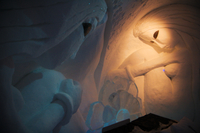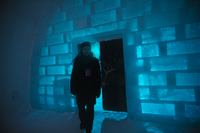 i then took a walk outside alone with my camera to take some pictures while the girls were enjoying some hot berry juices they offered at the reception. it had around 32 degrees below zero but it was absolutely great outside. after around 60 minutes outside my camera froze and stopped working properly. focus adjusting, zooming and the battery pack stopped working. additionally my tripod was getting very very hard to adjust the position of the head. so i decided to go in again. very interesting experience - man and machine versus nature, 0:1.