the night on
day 03
in our art-suite was awesome. i slept very good, the girls unfortunately did not that well. inside the room it had 5 degrees below zero, outside less than 30 degrees below zero. our suite had some howling wolves and moon theme, but the wolves resembled cats actually, at least they did to me.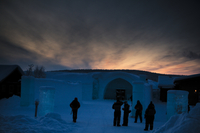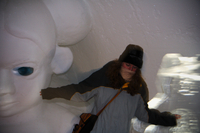 after having a really great breakfast we had a look at the rest of the hotel rooms. then we went on to some local sami museum.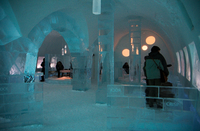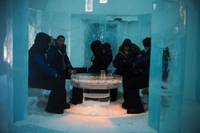 there we had a delicious reindeer soup and coffee. next to the museum is a very old wooden church. after a final visit to the ice hotel and a visit to the sauna there we went on to abisko to get to our hostel. there we saw the first cat on our trip. ulli won a beer, since i said i pay a beer to the first one who sees a living cat. meow. at least a cat, but no northern lights so far. too bad.