this
day
we went around with thommy[049] and nadine[050-051]. they brought us to some nice spots near fjelldal (yop, an IKEA bed is called like this too). first one was a nice place where there were reindeer[005-019], then a beautiful beach[030-053] with frozen sand and the sea.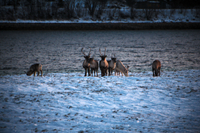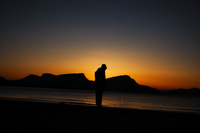 next stop was thommy's relatives, having a farm-house right next to the sea. there we had coffee (or tea as some of us preferred), delicious cakes, a nice talk, a cat[055-060,128], a baby[125-126], and a nice walk around the house down to the beach[061-091]. later we got a guided tour through the cow barn[095-122]. when we got out of the barn it already was dark again. so we drove back again to stay another night at thommy's place. once more we had awesome food like salmon and prawns with a very tasty sauce and white bread. nomnom.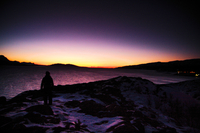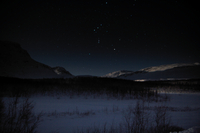 the nights up in the north were so very bright and full of stars[133]. this is so incredible and quite often breathtaking. i've never seen that many stars in the sky. my camera really suffers a lot. the temperatures once more made it freeze, so focusing makes a really painful sound. also the battery did not last long again. warming up the cells helped though. and once more condensate fills the body and the lenses. poor canon. me on the other side by now enjoy the temperatures outside. yippieh.