we decided to go back to abisko once again. first of all because they had a free room for us, secondly because we still hadn't seen any northern lights so far, and thirdly we still wanted to take the ski-doo tour. abisko seemed the perfect place for that. also there were caves and frozen waterfalls around the place. we wanted to go there. so the first thing of this
day
was to drive back again for three hours. unfortunately no guided tour was offered for the caves, so we decided to see the frozen waterfalls[01-30].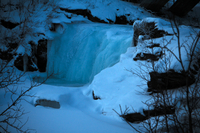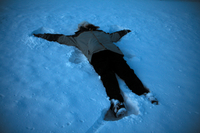 afterwards we drove back to the hostel, had again the very unique sauna-experience they offer there at abisko, when suddenly... we saw them! at 21:44 some chinese guy rushed into our room and said that there are northern lights outside. at first we didn't believe it, because a few days ago a chinese said he spotted them, but it turned out to be only a cloud in the sky. actually there were a lot of chinese people there. one said that's because there seems to be a very popular blog on a trip through north-sweden. it also mentions this hostel we stayed at we were told. additionally asian people believe that seeing northern lights gives a long life and loads of luck for the future. that's why we saw asian people quite often in sweden. but this time there really were northern lights. unfortunately not very bright and strong, but hey, at least there were some.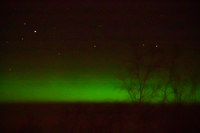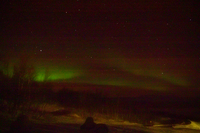 yippieh, we finally saw northern lights! again all my equipment froze including the tripod. i only took it with me to take northern lights pictures with it, and then some joints and turning handles just froze - weird. since, once more, also the battery pack stopped working, i couldn't take more pictures of this beautiful phenomenon.