since we didn't get a guided cave tour we decided to at least have some fun with ski-doos (or snowmobiles as they're sometimes called)
today
. so we booked two ski-doos at "camp alta"[01-19] in kiruna. it turned out that there's a frozen lake we were riding our snowmobiles over and then had a track through the woods. we slowly increased the speed each time we had a long straight trail. we soon ended at 90km/h. pretty fast, pretty shaky, and... pretty cold. sonja and me had a little bit of our noses uncovered. we ended up with frostbites and dark red areas on our noses. actually i only uncovered my nose once for about five minutes. seems this was enough. sonja's burns were a little worse. poor her. ulli had no problems at all, her face was covered all the time it seems.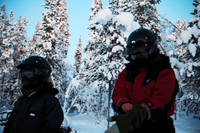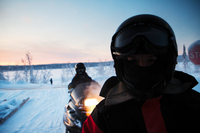 after having a lot of fun with the snowmobiles we got back on the car again to get closer to lulea. we decided to return our car there and take the night-train to stockholm. this would on the one hand save a lot of gasoline (thus money) and time. since it would have been a long way to lulea we decided to spend the night in gallivare. on the way there we saw two moose[37-42], and had again a nice sunset[47-68].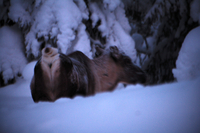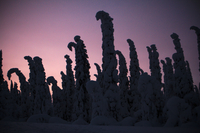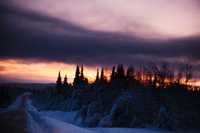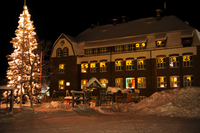 a few hours later we finally arrived in gallivare[70-77].