this
day
started off with a nice breakfast at "costa cafe"[03] at the shopping mall we've already been to yesterday. the cafe can be found right next to an "obi" store[02] there. for breakfast i had a croissant with miscellaneous fruits[03]. then we were brought to the "bryansk railway station"[05-15] in moscow by olga's father and uncle to get our train to bryansk. the station itself is very beautiful with loads of nice details and a huge hall[09]. the train ride lasted six hours and there were only two stops. russia is pretty vast, so going by train here has some other meaning than going by train in austria. additionally we had a sleeping compartment, so we took some naps[14] during the journey. the second stop was in "sukhinichi". at the platform there were sold loads of plush toys[15].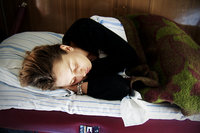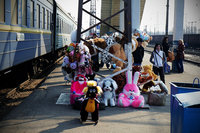 at the station in bryansk we were fetched by olga's mother that drove us to my new home for the next few days. in the pretty big house there are nine cats (maunz!) and three dogs (although they have to stay outside). olga's mother also prepared some very very delicious food like some pie[19] with meat and potato filling, borscht (but without beetroot, since olga does not like it it seems), and very nice halibut. afterwards we had some japanese tee and nice cherry cake made by olga herself.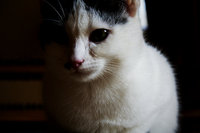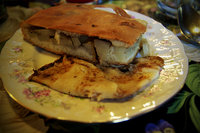 woah, so much eating, i'm not used to that any more after my ireland trip...