today
olga and me were strolling around in bryansk. the city itself is rather split up, with loads of woods and swamps in between. so we focused on the centre. first we went to a chernobyl memorial[13-14], armenian's memorial[16-17], some public school[19-21] where one can just walk through the backyard of it, bokrovskaya mountain[34-40] the place where the first settlement was (or at least the people believe so). next stop was the obligatory "lenin" place[47]. every town has it, together with some lenin street and most of the time some lenin statue. olga said at some time people wanted to remove the statues, but then they decided that it's part of history, so they just left all the names and statues as they are. next place i was shown was a memorial[51-52] of soldiers that died during the second world war.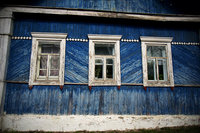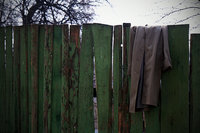 next we arrived at the company of o&d[61-74]. they are producing flash games for mobile phones, so there were some artists and some coders, and two bosses. all of the staff was very friendly and they gave me a warm welcome (i hope they were not forced to do so by dimas or they would get fired).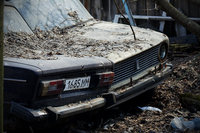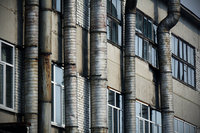 last sight was tolstoy park[75-89] with wooden sculptures. olga told me that once there was a park with very old and big trees. but one day all of them got some strange disease and people tried to save the trees, but they couldn't. so the trees had to be cut down, and artists were encouraged to make some sculptures out of the wood blocks. later we went to some little grocery shop[90-91] and we bought some traditional russian ice cream. it tasted nice and was actually not very different from what we have - surprise, surprise.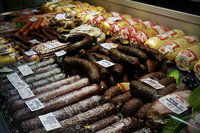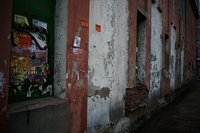 it seems like russians don't go out for dinner or coffee. thus there are only a few cafes in bryansk. poor me, i'm used to sight seeing then having a coffee break here and there and then going on. here i have to wait for quite a long time to get to a cafe[92]. but once we found some we have some desert and cafe. very nomnom, just like the rest of all the food i had tried so far. after coffee we went to olga's sister olesya and her kids. they also gave me a warm and kind welcome. there i had caviar. later dimas joined us, since he finished working and the company is just around the corner of olesya's place. so we went home and had once more a very delicious meal prepared by olga's mother. this time she made buckwheat with chicken hearts and sour-cream sauce. rather strange to me, but very tasty. nomnom. the rest of the evening we spent playing some wii games and having fun. ps: there are _no_ geocaches here in bryansk. too sad...