fourth
day
in russia started out with dealing with russian public authorities again. i have to be (re?)registered within three working days, once i had entered the russian federation. i think this is just to make sure that i really got fetched from the airport by the person that is named in the visa, and that i really still stay with them. so we went to some administrative office to have the paper work done. they require a copy of my passport, my visa and some paper that i was handed out when waiting for the passport control on my first day here. the paper was split into two parts, both requiring exactly the same information to be filled out, namely again my name, the place where i stay, the sequence number of my visa, when i arrive, when i leave, etc... so all this information by now should be registered at least a five, six times. but... yet they wanted olga (of course the both of us had to be there personally) to fill out all this again on two double-sided forms. the first part of the paper i handed out to someone at the airport when i came to russia, the second part i have to hand out when i will leave. they say if i don't have the second part when leaving russia, i might get into serious troubles. ok, so i just always put it into my passport. i should be able to not lose this one. the bad thing actually is, the lady at this office kept the second part. notice, she sent us away to get a copy of it, still she keeps the original. so we have to go there tomorrow to get it back. oh well... after spending about one hour at this agency, we went to some other part of bryansk. we got there by bus. they have two types of buses here: small ones, that are actually vans that have about ten seats in them and they drive quite fast. the other type of bus is an ordinary one as i know them from austria. you get on, have a seat and get off somewhere. in both of the buses you pay as you get on. on the first one you hand over the money to the driver, in the second one a lady is coming to you to collect the money. no matter how far you go, be it one station or 20, you always pay the same price, 12 rubles. so we finally arrived at an historical place, namely another first settlement found here. there was a graveyard again[01-06], and hiking a little off road, we got near to the flooded river[07-25] of bryansk. after a while we got back to a road[26-34] again, which we took to get back to o&d's office. there we had what they call "business lunch". they offered "schnitzel" there, but i had minced meat with smashed potatoes and of course borscht[36] and some strange, but very tasty fruit-juice[35]. coffee was next[37]. after getting on a bus again we got to the monastery[38-52]. there was a mass, and i dared to enter a little (but not to the room where the mass was taking place).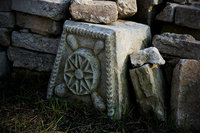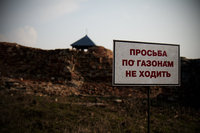 olga stayed outside, she had no clothes to cover her hair and dress properly to enter the church[41-43]. next to the church is a little "graveyard"[44-45] of dead monks and the house for the highest monks[46,50]. the rest unfortunately was not open to public[48]. behind the monastery there was a cool toilet[51], and some stairs[54-59] leading to a small spring[60-61] where one could take a bath. next our trail led us through a wood and a swamp[62-86] to some meadow next to the river. finally we arrived at the cemetery[87] again and took a bus to o&d's home again, where we had bryansk some beer.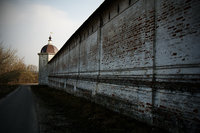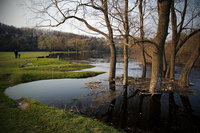 then we went home and had blov, a dish made of rice, vegetables, and meat. reminded me of risotto somehow. today iceland's volcano had a break out. aeroflot canceled all flights from and to europe. if the volcanic ash cloud wont disappear within the next seven days, i'm in troubles. i guess. i just don't want to deal with visa-issues and russian authorities anymore...