today
we planned to go to another part of bryansk. but first we had to get back my piece of paper they kept the day before. the lady in the office pointed at a box where quite a lot of papers like mine where in. so as picky as they are when it comes to bring everything and having filled out everything, as sloppy they are when it comes to handing out back any forms or papers. we could have just taken any pieces of paper, which for sure would have meant loads of troubles for the people that would have ended up without them. but of course we didn't. we walked around a bit until we came to, what olga called it, the suicide bridge of bryansk[008]. according to olga a lot of people here commit suicide. next olga showed me an abandoned bridge[013-020]. though fully functional it is not used by anyone. so no cars, just a few pedestrians and one woman on a bike were there. also i'd way more prefer this bridge to commit suicide, if i'd ever decide to end my life in this city. next we walked to the university, a place where olga was working once. there were so many girls, i totally forgot to take any pictures (or actually i was so busy staring, i had no time to take pictures). so olga dragged me away from the main buildings and showed me the area[024-072] around the university, again with abandoned buildings[028-045], bridges[051-071] and huge areas of swamp, wood, and meadows. on the bridge there were a lot of locks. they are put up there by newly wed couples, and on most of them there's something written on it.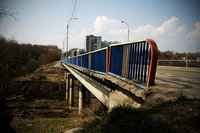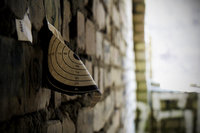 on our way back we found an old, but still working public telephon booth[078-080] (or... sort of booth). it still was beeping when we lifted the receiver. later we met one of olga's neighbours[082-085] and the girl asked me to take pictures of them. after having a coffee break we went on to see another memorial[088-094] where people of bryansk were offered to help building it. right next to the memorial is some amusement park[095-098,114-116], an abandoned ski jump[099-113], and an abandoned driving school[118-124]. the amusement park unfortunately was closed.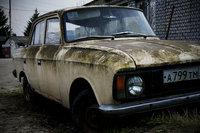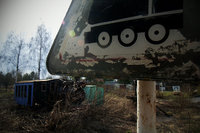 on our way back home we hit rush-hour it seemed, so loads of people[129-135] waiting for, and in the buses. notice that about 90% of the girls here wear shoes with (very) high heels. back home we had dinner. of course borscht, a soup called okroshka[139], and belmin[140-148], which we made ourselves. at first we stuffed the dough ourselves, but then olga's mom came up with some device[146] to speed up things a little bit. as usual, very delicious.