"what do you want to see in russia?" olga asked me when i said i will visit her. i said i would be interested in abandoned stuff, like houses, cities, villages, and such. and so
today
was the big day for such things. but before leaving to those places, we had to go to the doctor, because in the night dima and olga's mom were keeping the dogs from killing a hedgehog, and dima was hurt when trying to lift up the hedgehog, so we went to the doctor to have him checked for rabies and having a vaccination if necessary. the doctor said if the dog, who also got injured by the hedgehog, would still be alive in ten days, everything will be fine with dimas. nice prospect. afterwards we drove to the town where dima was born and his family still lives, to see some abandoned villages. the first place we visited was a memorial[005] for a burnt down village during the second world war. several hundred people were killed by german soldiers here. next place was a small abandoned village[009-034]. actually it was not abandoned entirely, because there was still one house where an old couple was living. the old lady[025] showed me around. she told olga that they lost almost all their bee hives[027-028] due to too much snow. inside the house they had several ovens for heating and cooking, and an old cat lying next to one oven. in this village there was also a geocache[030] hidden. there is a geocaching site for russia, that's why i did not find any caches on geocaches.com, but geocaches.ru did the trick. since those two sites are not really connected (in terms of caches and users), i still have my traveling bug with me. i hope i can get rid of it in moscow.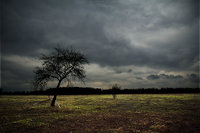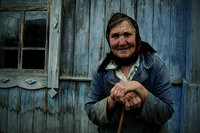 then we drove on to the next abandoned village[036-084]. we found a place where someone was collecting juice from a birch[075]. it's pretty common here and so birch juice is easy to get here. it tasted like water with a little sugar in it. after that we got to a holy spring[088-110]. they even built a small hut there for people that want to take a bath in the holy water. it is said that one gets young and good looking if they wash their face with that water. so i did wash my face - maybe it helps, we'll see. afterwards we had some sort of barbecue[106- 107]. dima's father brought some lard[110] and bread. quite tasty, and common (according to olga), but definitely not my favourite every-day food.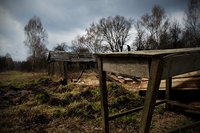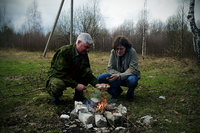 last building we stopped by was an abandoned school[119-131]. people started to dig at the corners of the ruins, because rumour has it that there should be some gold hidden (of course there was none - i was looking myself). then we stopped by at dima's parents to have dinner. we had some chicken with salad, of course borscht, and a delicious cake for dinner. all served with several rounds of vodka (yes, i ended up slightly drunk this evening). on our way home we were listening to scooter (because olga's mother likes it and thus had a CD in the car), stopped at a super market to buy some food and at the train station to buy our tickets for the train back to moscow on tuesday.