day 10
was entirely dedicated to doing touristy stuff. of course first thing to do was to go to the kremlin's red square[004-020,075-102], to saint basil's cathedral[016-055], the gum department store[011,056-074], and some historical place[015] where people were beheaded a few centuries ago, nowadays used by people as a wishing well. unfortunately lenin's mausoleum[012] was closed due to preparation[010,012-013,091] works for the 65th anniversary of victory in WW2 celebration, and kremlin would have been open for only one more hour, so we decided to come back here on friday, the day of my departure.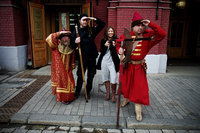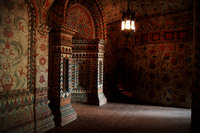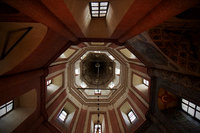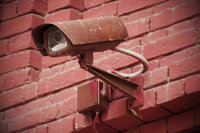 so we went by metro[103-108] to get to a park where we met with two friends of dimas (although the second one, alexander, was a bit late, so we met him after the walk through the park). on our way to the park we came by the monument to the conquerors of space[109-110,195] which also houses the memorial museum of cosmonauts in the lower floors of the monument. the monument itself is 107 metres high and on top of it there's a rocket. the park, called all-russia exhibition centre[112-194] (aka "VDNKh-USSR") consists of many pavilions, loads of sculptures (including the quite famous one named "worker and kolkhoz woman"), fountains, a ferris wheel, and many other stuff. since the area of the park is bigger than monaco, we only had a look at some places there like the propylaea[112-114,117,123] the central pavilion[118,120-128], a fountain[129-135] dedicated to the friendship of nations, a pavilion[136,143, dedicated to moscow, ryazan, and tula regions, another pavilion[137,139,178] dedicated to uzbek SSR, next to the ukraine pavilion[146-148,162-170], a pavilion[157] dedicated to mechanization and a spaceship[149-155] and an airplane[159-160] right next to it.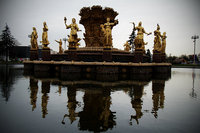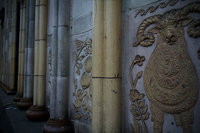 guess what, all this stuff is next to another pavilion[158], namely one dedicated to cotton, which is next to a pavilion[179] dedicated to karelia, which is located right beside the pavilion[180] of armenia, which... we entered. puh. inside[181-184] were a cafe, and some shops which were already closed.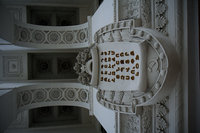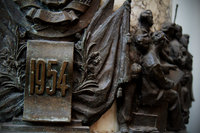 next we took a ride on "moscow-850"[185-193], a ferris wheel, constructed for moscow's 850th anniversary back in 1997. it's around 75 metres high and you get a good overview over the exhibition park and moscow. then we went to some sushi bar and had very delicious meal there. alexander then offered to drive us around a bit, so i could get a glimpse on moscow by night. of course i didn't want to miss that chance. so we got on his car and drove to kremlin[196-203] again. this time there were almost no people. another thing alexander wanted to show me was a bridge[207] where young couples put on locks. i have already seen several of these locks on all kind of bridges, but this one was quite impressive. they put up iron trees[204-209] and all locks were attached to those trees. next stop was another cathedral[210-212], another bridge[213-215] (we thought there should be a geocache, but we never found it. even when we returned there in daylight, the next day. but there were construction works going on, so maybe the cache was inaccessible). then we stopped at a nice viewing platform[216] which gave an impressive view over moscow.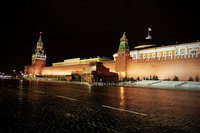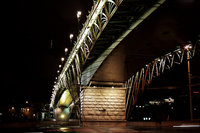 last stop was a park that had clown statues[219-225] all over the place. looks like it was founded by some clown enthusiast[217].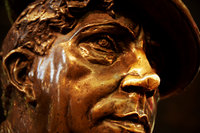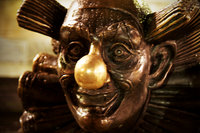 unfortunately alexander had to get up the next morning early to go to work. so we then stopped the tour. thanks very much for this awesome and interesting tour through moscow, alexander!